Air Filter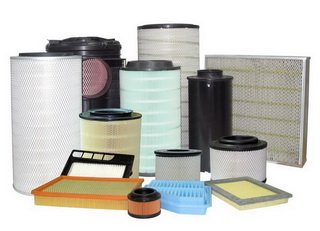 Is most vital in keeping the contamination out of the intake system. It prevents contaminated air from being mixed with the fuel before entering the combustion chamber.*

Oil Filter
   


Provide clean lubricant oil in the engine, thus reducing premature wear and tear in all frictional parts. Sakura Filter offer optimum filtration by providing high efficiency filtration. Clean oil provides good sealing between pistons and cylinders for maximum fuel economy.*
Fuel Filter
    


Keep the intake system clean. Clean fuel will prolong the life span of the injector and maintain higher fuel efficiency.*
Cabin Air Filter
     


Protect passengers from airborne contaminants, such as pollen, bacteria, dust and smog. In heavy equipment it helps improve the air conditioning and air quality providing the user better awareness and health.*
Transmission Filter
    


Modern transmissions are required to process great torque, operate smoothly and function more reliably. Sakura Transmission Filter make sure the transmission fluid is clean and the transmission box clogg free for better performance.*
Racing Air Filter


Provide the highest quality to increase the engine performance (horse power and torque) with the ability to capture more dust, and more efficient. Clean the filter every 5.000 km depending on conditions and driving habits, visit www.sakura-racing.com for detail.
Coolant Filter


Design for cooling system protection and durability against corrosion.*
Hydraulic Filter
     


Provides protection and prolong the life span by keeping the hydraulic system clean.*
Air / Oil Separator Filter


Removes residual oil from the air on the out line of compressor to enhance machine life.*
Fuel Filter / Water Separator


Remove water contamination to ensure clean fuel is delivered to the engine. Fuel Filter/Water Separators provide effective protection for engines used in automotive, industrial and marine applications.*
Industrial Filter


Sakura Filters offers a wide range of EDM / Wirecut Filters to optimized performance of the machine system.*
Others Filter


Sakura Filters also provide filtration products such as:
 Blow-by Gas Filters,
 Dielectric Fluids Filters,
 Dust Collector,
 and many more to complete the full range of applications.
* Replaced as per OE manufacturer's recommendation